Platinum Marketing Newsletter – October 2022
Quarterly Real Estate Report
Welcome to the Macdonald Platinum Marketing Newsletter where we share our thoughts on the current market, project highlights and upcoming developments.
​
In this newsletter, you can expect to see:
​
Interest Rate Hikes
Five Thoughts on Today's Interest Rate Hikes
By Jerry Wang, Personal Real Estate Corporation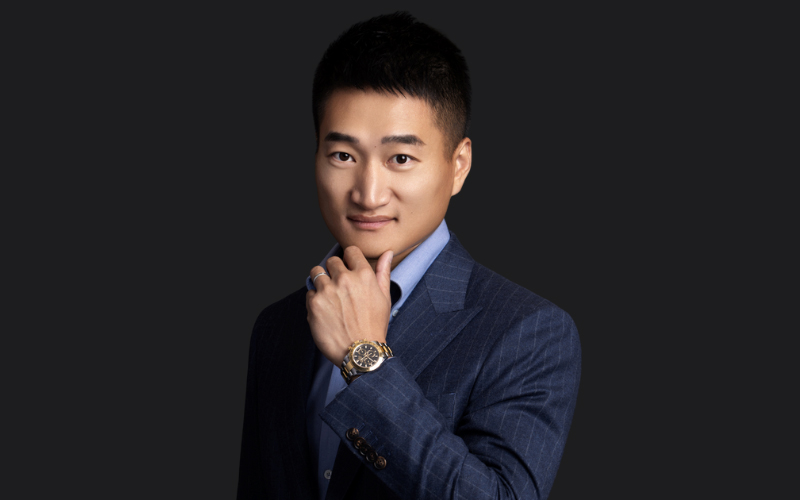 1. RATE HIKES CAUSED RENT HIKES
When the Bank of Canada increased its overnight interest rate again, already-priced-out purchasers turned to the rental market, which resulted in rapid rent increases. The demand for housing simply has not diminished because of rate hikes in large part due to lack of available supply. Savvy investors have cashed out of the stock market and the volatile digital currencies, once again making land investment, the safer long game.
​2. AVERAGE PRICE DOWN FROM Q1 2022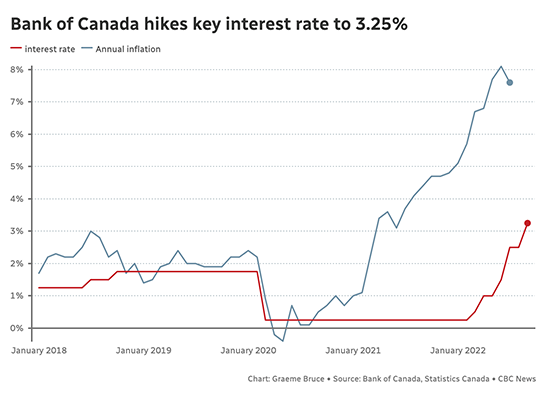 The average home price has fallen from Q1 2022, so what does this mean for entry-level homes? After the first interest rate hike in March, the housing market began to slowly cool and the sales to listings ratio subsequently increased. Sellers were divided; those who needed to sell, lowered their asking prices, while others (who were not as motivated) took their properties off the market – and the market stabilized. Rental demand pushed 1 bedroom rental rates to an all-time high and this past Summer, we began to see would-be renters jumping into the first-time buyer market; a result of expiring rate holds and a crucial moment where monthly rents and mortgage payments reached an equilibrium.
3. WHERE ARE THE OPPORTUNITIES RIGHT NOW?
Developers only sell homes when they can calculate a reasonable ROI, which is typically a 15-18% return on their costs. The resale market might fluctuate rapidly, but land costs simply do not drop overnight.And as borrowing costs rise, along with uncertain construction costs due to supply issues, developers will choose to hold off on launching new projects if they cannot find a pathway to profit, or they will source alternative ways to self-finance their projects through construction. While the latter is more financially challenging, selling finished product provides developers with 100% cost certainty. Regardless, both of these scenarios severely impact market supply and this will make for challenging times ahead for sellers, buyers and renter
4. SO WHO DO THESE RATES AFFECT? 
It is important to understand that buyers are not the only segment affected by interest rate hikes. This affects developers looking to finance land for the purpose of redevelopment too. Presale buyers have a certain degree of leverage in the market right now, especially with developments currently under construction with unsold inventory. Leverage can come in the form of: pricing discounts, bonuses, decorating allowances and no-charge upgrades. Agents should be keeping tabs on these incentives because they won't last forever. Can't seem to find a suitable resale property for your client? Perhaps you should be looking for presale assignment opportunities, particularly at a time where assignors are finding it increasingly difficult to secure suitable financing for properties closing within the next 12 months.
​5. YES, PRESALE BUYERS CAN LOCK IN THEIR RATE HOLDS FOR UP TO 12 MONTHS
No one is feeling more anxious about interest rate hikes than buyers holding presale contracts for developments under construction and closing within the next 6-12 months. But did you know that the big banks like TD and BMO are extending their "Builder Capped Rate Programs" to buyers? These rates can be locked for 12 and up to 36 months with no obligation at completion, giving buyers 100% flexibility when it comes to financing their next home. These types of programs also send a confident message to the market: banks do not foresee rate hikes lasting much longer and they anticipate that rates will stabilize moving forward.
THE PRESALE MARKET
The Presale Outlook From 50,000 Feet
By Matthew Lee, Personal Real Estate Corporation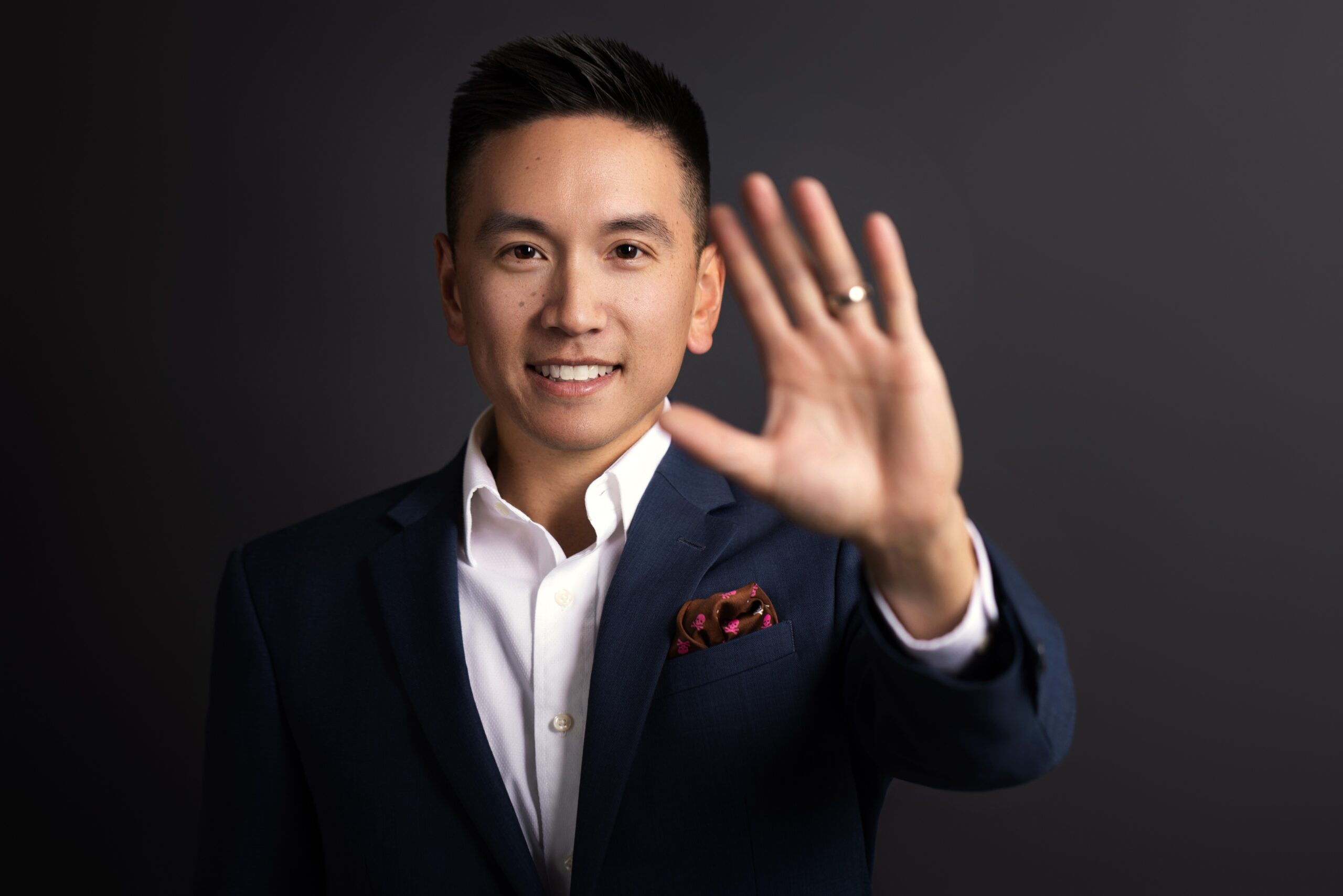 We find ourselves in unchartered real estate territory. For the first time in history, Vancouver and the Lower Mainland market conditions have created an arena where tenants, buyers and sellers are collectively finding it difficult to rent, own, and purchase – all at the same time. And things are likely going to stagnate before we see another robust cycle of real estate activity.
A Knife's Edge: Too Much or Too Little?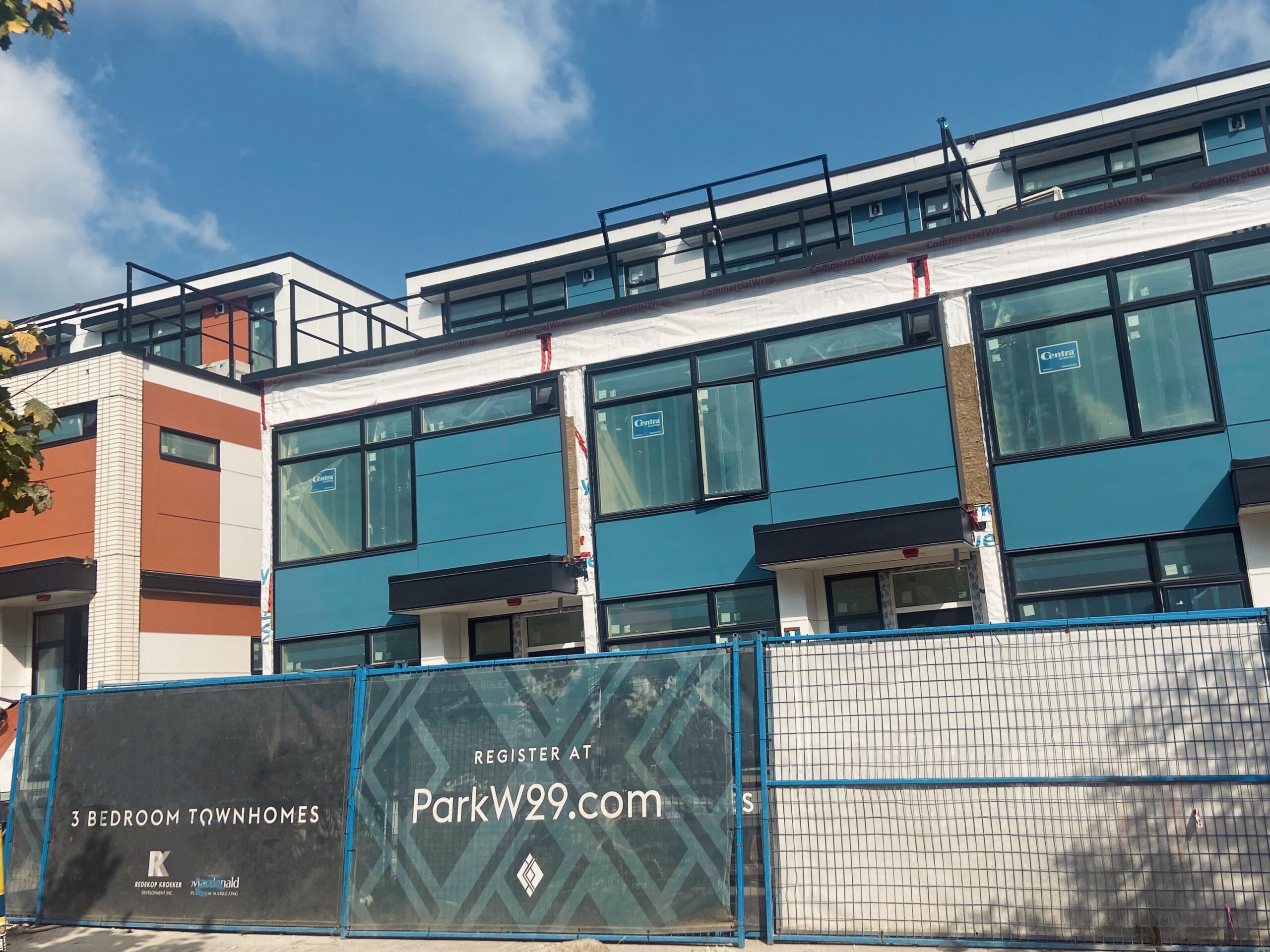 Park W29 Construction Site Photo in Vancouver, Canada, September 22, 2022
Prior to COVID, Lower Mainland real estate developers were already pushing the pause button on land acquisitions and development applications. Reports by Zonda Urban suggested that approximately 7,000 would-be presale units were removed from the open market as demand appeared balanced. This equated to about one third of all presale typically offered for sale annually from Squamish to Chilliwack. Low interest rates fueled salacious real estate appetites across the Lower Mainland during COVID and suddenly, we found ourselves in supply compression. Municipalities struggled with the tidal wave of development and rezoning applications across the board; which, in turn, have placed historical and unprecedented pressures on construction labor, materials, and inevitably supply chains.
Fast forward 24 months, the development community yet again – is taking a collective pause on multi-family entitlements for both market rental and marketing housing projects respectively. Municipal and bureaucratic "red tape" have made developments cost-prohibitive, putting profits at risk, and these risks no longer outweigh the benefits. Land residual values remain (and will remain) high due to the fundamental shortage of developable land, which is further inflamed by clawbacks and restrictions on density, floor space ratio (FSR) and building heights. Developers cannot (and certainly will not) pay over-market pricing for land with escalating construction costs and profit uncertainty. Meanwhile, those owners holding desirable land, feel zero motivation nor urgency to accept lower prices. The market is between a rock and a hard place and there are no quick fixes.
What Does This Mean for the Next 18 Months?
The full effects of this development hiatus will undoubtedly be noticed in the next 24-36 months when our municipal populations are projected to explode due to pent-up immigration. While we are months away from knowing the statistical figures on delayed developments, the lack of available housing will inevitably push rental rates and prices higher.
With a projected 625,000 people immigrating to British Columbia over the next 5 years, the bigger questions are: 1) How will we house these people and families And 2) what effect will this have on pricing? Adding to this compounding effect, the construction industry will be running in overdrive as the tail-end of the Baby Boomer Generation is expected to be retiring within the next 6-8 years. Aside from housing, what impact will this have on our transportation and riddled healthcare system?
The short answer is anyone's guess, but we are not anticipating price erosion. There are a myriad of reasons why people want to live in our Province and specifically the Lower Mainland. Desirable communities, job opportunities, and access to transportation – just to name a few. Housing types like row homes, townhouses, and duplexes have long been considered "the new single family home" with yards, balconies, decks and flex space. These types of homes will continue to be in demand, highly coveted, and desirable in virtually every neighborhood community moving forward. The rising cost of land will continue to keep average living spaces compact and efficient, in a continued effort to make the finished product both sellable and affordable.
Most of the larger commercial lenders reached their lending targets this past summer, meaning (outside of private loans) there is a shortage of available capital for land acquisitions. Municipal development applications have slowed too, and while the price of lumber has fallen, developers are not clambering to dig holes and pour concrete. Like buyers in this market, developers are taking a "wait and see approach" too. Looking ahead for the next 12-18 months we will see interest rates stabilize. Rentals will continue to be in high demand largely fueled by gradual population growth and when interest rates eventually decrease, be prepared for the market to go for yet another run. It simply comes down to supply and demand, and (today) demand is driving the bus.
MACDONALD PLATINUM PROJECT HIGHLIGHTS
Two Final Opportunities
Completing Early 2023:
Laval in West Coquitlam by Domus Homes
Two, Three Bedroom Townhomes Available from $1,134,800 + GST
Visit liveatlaval.com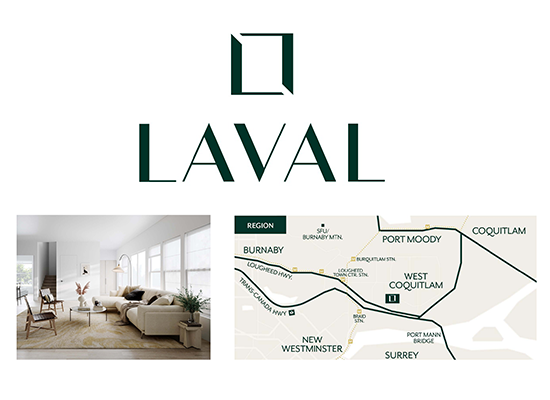 Upcoming Developments